What to Look for in a Site Development Company When Considering a New Employer
What to Look for in a Site Development Company When Considering a New Employer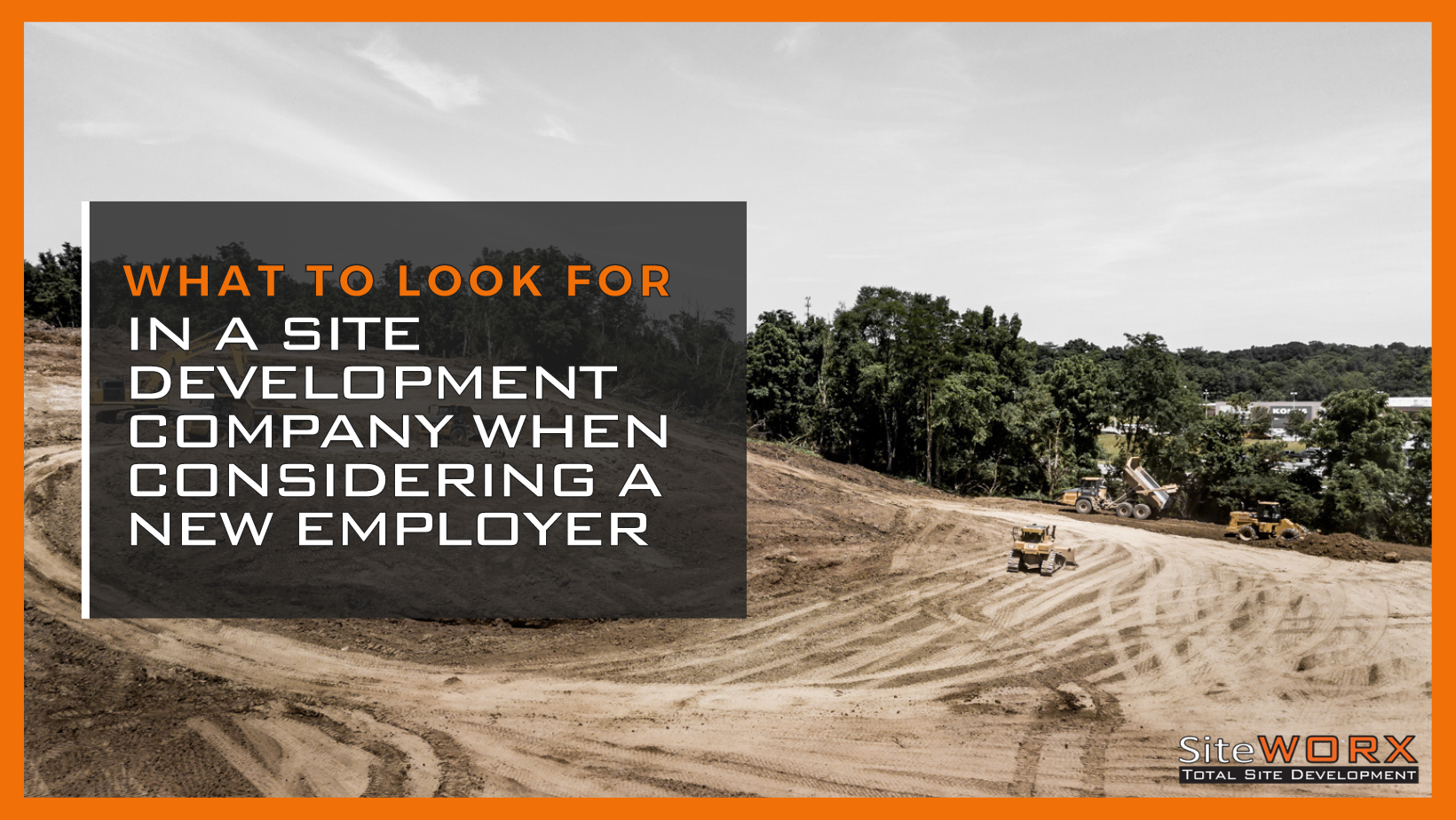 Changing jobs is never easy. 

Not only do you have to adapt to a new environment, but you also have to learn a new position, learn to work as part of a new team, and learn the wants and needs of your new employer.  

If you are looking for a job in the field of site development, this can be especially difficult as no two employers are built the same.  

Looking to start your career in construction? Learn more here! 

You want an employer who treats you with respect, invests in technology, provides proper training, and has a mind for safety. 

All of this can be hard to find, but if you are serious about developing a career in site development and construction, working for a high-quality employer is a must.  

This post will go over some of the top attributes you should look for when searching for a new employer in the field of site development.  
Looking for a New Job in Construction? These Three Attributes are a Must 
If you are looking for a new job in the field of construction, it can be difficult to know which employer is best.  

If you are not sure which direction to take, then consider these three attributes as the most important when it comes to employers in the field of site development. 
Career Development Options 
This one is important for any job, no matter the field. You should always be on the lookout for employers who are focused on developing your skills and helping you build a career.  

Employers who are interested in development and training are valuable because you can quickly become better at your current position, gather resources from the outside, and bring them in, and you are in a better position when it comes time to search for your next job.  

Look for job descriptions that mention continued training and be sure to ask about development and career advancement opportunities during your job interview. 
A Positive Team 
In construction, teamwork is everything.  

You need to rely on your team for safety, knowledge, and much more. Before you start a new job, consider how the team operates and what you can expect on a day-to-day basis.  

Here's what a day in the life of the average construction worker looks like.  

Do you want a team that will work together to achieve a greater goal or one that leaves you short-handed and overworked?  
Company Stability 
The last attribute you need to look for is a company that can boast strong performance and stability.  

Do a little background research. Check out how long the company has been around and what type of projects they work on.  

Are they getting bigger and taking on a progressively higher volume of projects?  

Determine whether or not the company you are considering is profitable.  

A company that is growing, taking on new projects, and expanding into new sectors will have stable jobs and ample opportunities. 
Take Your Career to the Next Level with SiteWORX 
If you are looking for a career in site development and construction, then you need a company that does things right and helps you grow a career you can be proud of.  

For that reason, SiteWORX is one of the most exciting options workers look for when they apply for a new construction job in Southern Ohio. 

At SiteWORX, we put safety, technology, and performance first to ensure that we build projects that our workers can take pride in.  

Here are the biggest positives of working in construction! 

If you are looking for a position in construction, look no further than SiteWORX. We have multiple positions open, and we are looking for the next key player to help our team succeed.  

If you are ready to take your career to the next level, apply with SiteWORX today! 

Follow us on Facebook and LinkedIn for more free construction career tips!