Want to Break into the Construction Industry? Here's How!
Want to Break into the Construction Industry? Here's How!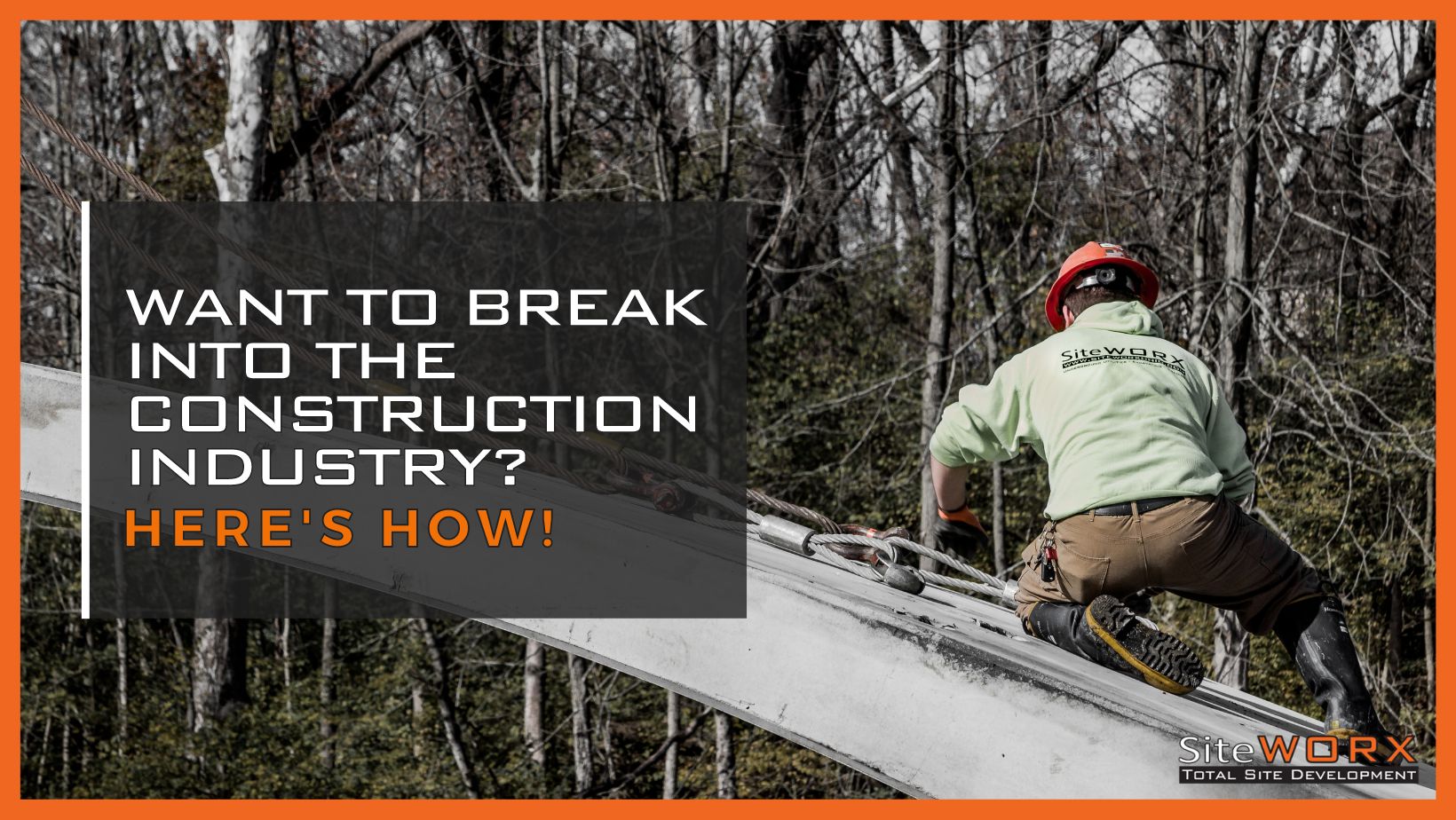 You want to break into the construction industry.
Why? Start with great pay and benefits, reliable job security, and great hours, and it is easy to see why construction is an attractive option for many young people looking to enter the workforce.
So, how do you get started?
SiteWORX has put together this quick guide to help you start your career in construction today!
Your Guide to Starting a Career in Construction
The construction industry is one of the largest in the world. That means there are dozens of career options and jobs are plentiful.
Use this guide to start your career in construction today.
Step One: Decide Your Field
One of the best parts of the construction industry is workers can choose to go many different routes to find success.
Here are a few routes you can take:
Home building and renovation


Commercial


Industrial


Engineering


Spend a little time researching each pathway to decide which best aligns with your passions and interests. You can also talk with some workers with experience in each field to get a better idea of what the job may be like for you.
Step Two: Education
At the most basic level, you will need a high school diploma or GED. With these certifications, you can get your first construction job and work your way up over time.
However, you can also start a career in construction with a college degree or higher education certificate! Many colleges and trade schools offer degrees specifically geared towards educating you on a specific career path.
It all depends on your goals and your vision for the future.
Step Three: Start an Apprenticeship or Apply for a Job
Once you have the proper level of education, you have two options. First, you can get an apprenticeship with an experienced trade master. Or you can look for your first job.
An apprenticeship is an attractive option as you will get hands-on experience with a master tradesman who will share their knowledge with you. You will also be paid to learn!
You can also start a job immediately. For this option, you will learn many new skills and tasks independently with oversight from a team of more experienced workers. For this option, you will get full payment right away and can start climbing the ladder of success immediately.
Step Four: Earning Certificates and Improving Your Resume
Now that you have begun your career, you can focus on your future. Where do you want your career to take you and how will you get there?
You can learn this information over time and talk to and network with more experienced construction workers.
You will discover a career path that is right for you. Remember, your original vision does not have to be the one you stick to. Over your career, you can learn many new skills and make career alterations.
The key to advancing your career in a specific direction is through earning certificates. You can earn safety certifications through OSHA, or specialty certifications through your company or third-party associations.
Your career path is up to you, and there are limitless opportunities in the world of construction.
SiteWORX is an Excellent Place to Start Your Career in Construction
If you are looking to start your career in construction in the Cincinnati area, then there is no better place to begin than with SiteWORX.
SiteWORX offers you the opportunities and education to begin your career with a friendly and collaborative team who will help you reach your goals. You can get into construction now with little or no experience!