Entry Level Construction Jobs with No Experience Needed
Entry Level Construction Jobs with No Experience Needed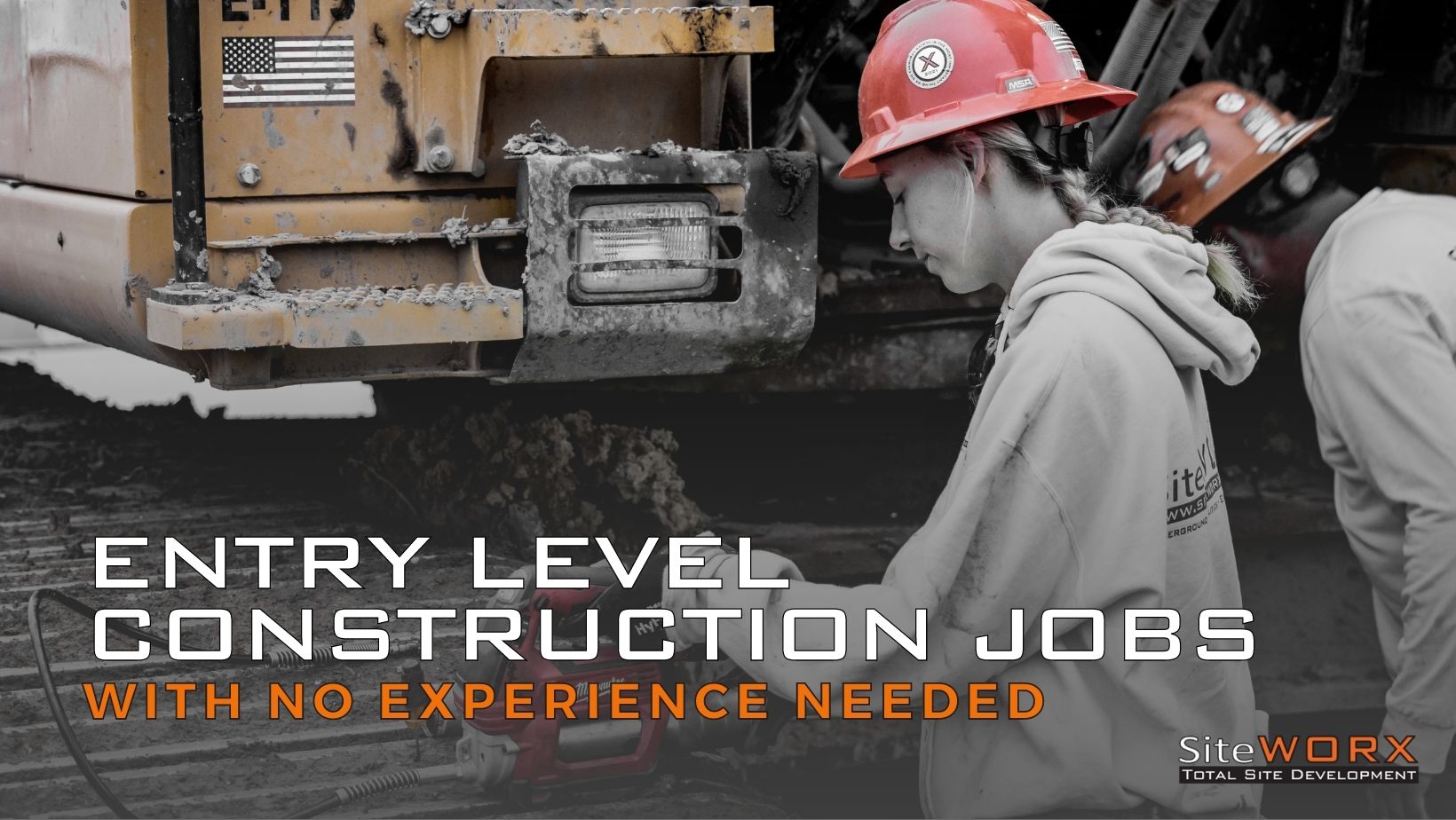 Right now is one of the best times in history to start a job in construction.  
Why? It's simple! There have never been as many entry-level openings as there are right now. That means young people looking to start their careers in the construction industry have their pick of entry-level positions.  
These jobs require no prior experience and no more than a high school diploma or GED.  
In the United States today, there are over 7 million employees and 733,000 employers in the construction field, according to the Associated General Contractors of America. In addition, $1.4 trillion is spent building new structures every year.    
That means that not only is construction a job that you can count on year after year, but starting wages are great and you can begin earning money right away.  
However, many young people do not know where to begin or what jobs are available to them.  
SiteWORX is here to help! We have assembled a list of the top entry-level positions in the construction industry. 
How to Get Your Start in Construction 
Construction is a great industry for young people to build their careers. Construction jobs offer high wages, outdoor working conditions, great hours, and require no prior experience.  
Almost all workers begin their careers in general labor. Some workers choose to stay in this position their entire career, and others choose to pursue more specialized paths that can bring them higher wages and diversified knowledge.  
What does a general laborer do?  
They contribute to a lot of different projects on the job site to ensure the job gets done safely and on time.  
Often, they will assist in installing and assembling underground utility pipes for the storm, sanitary, water lines, and more.  
They will also measure and cut materials and use hand tools for assembling components.  
A general laborer will also shovel and dig dirt and other materials, lift scrap and components, climb ladders, and work on uneven surfaces.  
They will also work on their physical prowess on the job site. Their daily duties will include continuous standing, walking, bending, and kneeling. All these activities help train the muscles and improve the physique.  
This position calls for someone who is detail-oriented, good at working with others, organized, and self-motivated. 
Interested in applying? Click here!
Free training is provided for entry-level employees as a condition of employment. That means "no experience needed" truly means no prior construction experience is necessary. 
Where can your career go from the beginning with general labor?  
Some of the best construction career paths include: 
Heavy equipment operators 


Pipelayers 


Concrete finishers 


Project managers 


Estimators 


CDL drivers 


Foreman 


Office staff  


More 
The opportunities in construction are endless and you don't need any experience to start. This is a great opportunity for high school graduates and college students to earn a great wage while they advance their careers.  
Start a Career in Construction with SiteWORX 
Construction is an exciting and rewarding career for many young people looking to start their careers. 
 The construction industry requires no prior experience, offers a great starting wage, and has endless growth opportunities.  
Ready to take the next step? Reach out to SiteWORX and start your career today!