Safety Training at SiteWORX
Safety Training at SiteWORX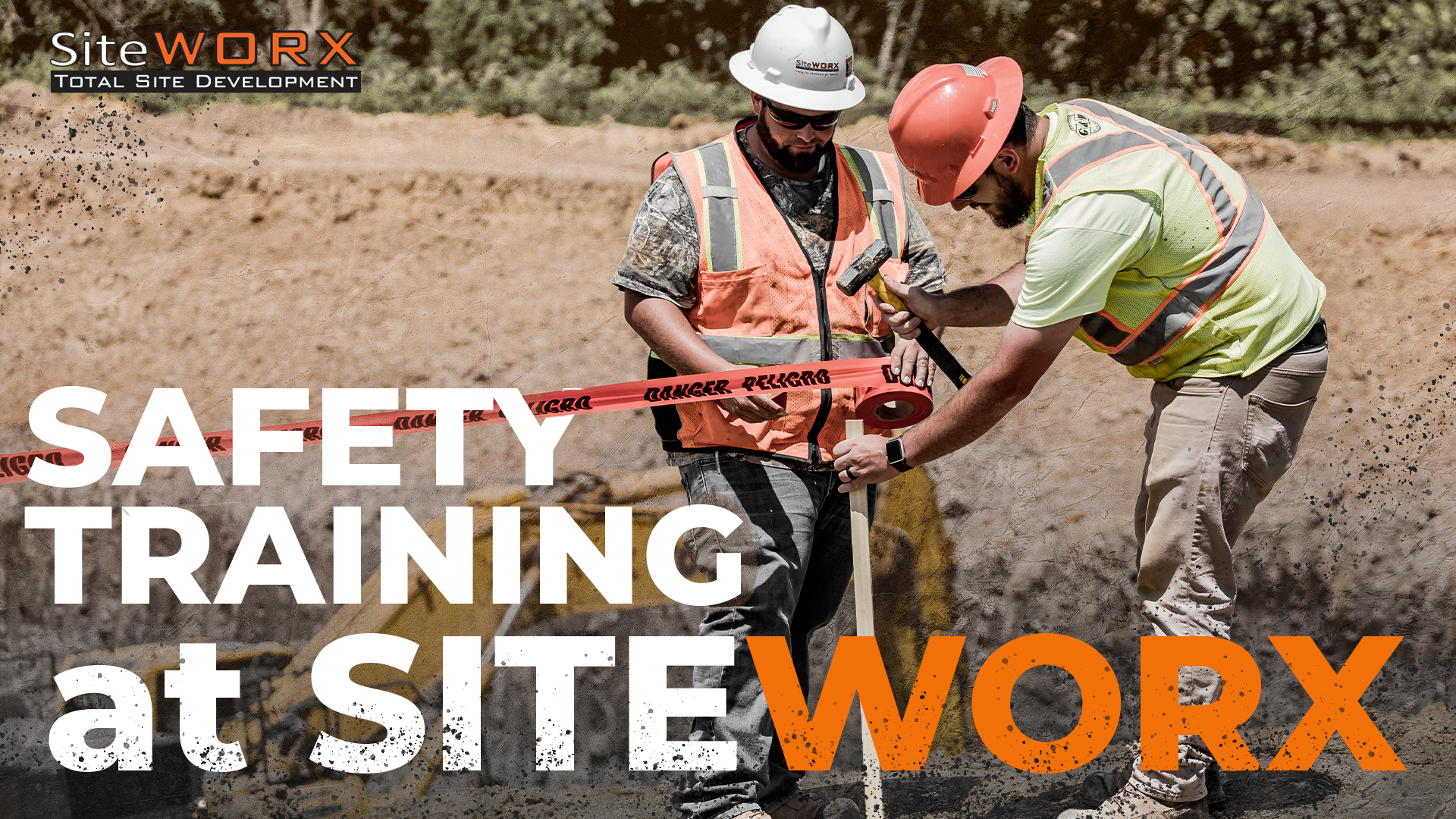 At SiteWORX, we believe that safety should be the priority on every site. Worker health and knowledge is a key component of onsite success and can make the difference between a safe work zone and a dangerous one.
Safety training is the best way to educate workers about potential site hazards, proper equipment functions, and other responsibilities they have when they work on any site. Because we at SiteWORX believe that safety is the most important thing we do every day, we have seven staples of safety preparedness that help separate SiteWORX as an industry leader.
Better site safety starts with better company culture. Click here to learn more!
In this post, we will look at seven different training initiatives that SiteWORX has invested in to make all our construction sites as safe and prepared as they can be.
What Trainings does SiteWORX offer?
SiteWORX has a strong safety culture that focuses on providing efficient and safe work environments for all our workers. Below we will take a closer look at seven different initiatives SiteWORX uses to make our workplaces safer every day.
Want to learn more about how SiteWORX prioritizes safety on site? Read this blog to learn more!
3rd Party Jobsite Safety Inspections
As part of our safety program, we conduct regular job site safety inspections performed by third-party inspection companies. These inspections are an essential part of identifying workplace hazards and ensuring compliance with federal workplace safety regulations as well as company policies.
During a job site safety inspection, the inspectors look for a variety of hazards including environmental conditions and unsafe work practices. The inspection involves a thorough examination of the entire site, including excavation and trenching sites, equipment, and tools. Any safety requirement issues identified during the inspection are documented and immediate corrective actions are taken to mitigate them.
At SiteWORX, we believe in the power of proactive safety measures, and working with independent third-party inspection companies who specialize in job site safety inspections is one of the best ways to achieve this goal. These companies are staffed with highly trained professionals with years of experience in conducting safety inspections. This approach allows us to maintain a strong safety culture and gives us actionable insights as we continuously work to improve our safety program.
Tool Box Talk
Tool Box Talks are a crucial component of a SiteWORX construction site. They are short, interactive safety meetings meant to reinforce safety practices, awareness, and knowledge among workers. The talk covers many topics about the onsite tasks for the day.
In a typical Tool Box Talk, the project supervisor or safety officer leads the conversation, with all workers in attendance. These talks address the proper use of personal protective equipment (PPE), such as hard hats, safety glasses, gloves, and earplugs. Other topics might be covered including equipment safety, electrical hazards, and confined-space entry procedures.
Learn more about PPE found on a construction site when you read this blog.
SiteWORX safety officers are engaging and clear in their communication and firm in their enforcement of safety requirements. This is how we achieve better results every day.
New Hire Safety Training
New Hire Safety Training is a critical part of SiteWORX's safety program. All newly hired employees need to undergo Safety Orientation, Hazard Communication, Emergency Action Plan, and Personal Protective Equipment (PPE) training, and familiarize themselves with the company's Safety Policies and procedures.
Safety Orientation is a fundamental requirement for every new employee, as it forms their understanding of SiteWORX's safety culture. This training typically covers the SiteWORX's expectations for employee behavior, health and safety policies, and the general layout of the workplace.
Hazard Communication training helps ensure that new employees know how to identify potential hazards in the workplace. The training includes identifying different hazard classes, understanding product labels and Safety Data Sheets (SDS), and safe chemical handling procedures.


Emergency Action Plan (EAP) training is designed to ensure that all employees can promptly respond to hazardous situations that may arise. This training includes emergency evacuation procedures, emergency response protocols, and notification procedures.


Personal Protective Equipment (PPE) training focuses on educating new employees on the correct use and maintenance of PPE, such as respirators, safety glasses, hearing protection, or gloves.
Annual Safety Training
At SiteWORX, safety is a top priority, and we consider it an integral part of our company culture. To maintain a strong safety culture, we conduct Annual Safety Training for all our employees. This training covers important topics such as federal workplace safety regulations, personal safety, and the proper use of safety equipment such as glasses.
Federal workplace safety regulations are essential guidelines that SiteWORX implements to ensure that all our work environments and processes meet the highest standards. Our Annual Safety Training provides an overview of these regulations to ensure that our employees are aware of the importance of complying with them.
Personal safety is crucial for the well-being of our employees. Our Annual Safety Training covers different aspects of personal protection, such as avoiding slips, trips, and falls, and recognizing potential hazards that could be harmful to their health.
OSHA10 Training
One of the ways SiteWORX achieves better site safety is through our OSHA10 Training program, which is designed to provide our employees with the knowledge and skills required to work safely and efficiently.
The OSHA10 Training program covers a range of topics related to workplace safety, including hazard recognition, fall prevention, electrical safety, personal protective equipment, and more. The training is conducted over 10 hours and provides participants with a detailed understanding of the federal workplace safety regulations that are essential to ensuring a safe work environment.
The purpose of the OSHA10 Training program is to help employees develop a strong awareness of the potential hazards they might encounter on the job and to equip them with the tools and knowledge they need to work safely and effectively.
The federal workplace safety regulations that are covered in the OSHA10 Training program include hazard communication, respiratory protection, and fall protection, among others. By ensuring that our employees are well-versed in these essential regulations, we can maintain a safe and secure work environment for all our team members.
CPR Training
SiteWORX offers CPR Training to its employees, recognizing the importance of quick access to medical attention in emergencies. The training equips employees with the skills to provide CPR to colleagues or bystanders who may require immediate medical assistance.
CPR Training is a vital component of employee safety, especially in high-risk environments where accidents can happen unexpectedly. With the ability to administer CPR, employees can effectively respond to medical emergencies and reduce the risk of serious injuries or fatalities.
In addition to the practical skills, CPR Training conveys vital knowledge on proper response procedures and accident prevention, helping employees to recognize and assess potential hazards in the workplace.
Crew Specific Training
SiteWORX recognizes that each crew has specific needs in terms of safety training, which is why we offer Crew Specific Training. This tailored training is designed to meet the unique needs of each crew, ensuring that they have the knowledge and skills they need to perform their jobs safely and effectively.
An important topic covered in Crew Specific Training is environmental conditions. Crew members need to understand how different environmental conditions can impact their safety, and SiteWORX provides training to ensure that they can identify and mitigate potential hazards in the environment.
Ultimately, Crew Specific Training at SiteWORX is about tailoring safety training to the specific needs of each crew. By providing training that is relevant and useful to each crew, they can help ensure that everyone is prepared to work safely and effectively, no matter what challenges they may face on the job.
Safety on Site at SiteWORX
SiteWORX strongly values safety on our construction sites, and because of that, we are always improving and refining our current safety protocol to achieve better results and strive for new goals. The seven initiatives listed above are just a few examples of how SiteWORX commits to safer workplaces every day.
If you are looking for a construction company that prioritizes safety and building from within, then SiteWORX located in Cincinnati, Ohio may be a good fit for you. We are currently looking for new and experienced workers to add to our ever-growing team.
Click here to see our employment opportunities now! Follow SiteWORX on Facebook, Instagram, and LinkedIn! Happy with the SiteWORX difference? Leave us a five-star review here!