The Difference Between Skilled and Unskilled Labor in Construction
The Difference Between Skilled and Unskilled Labor in Construction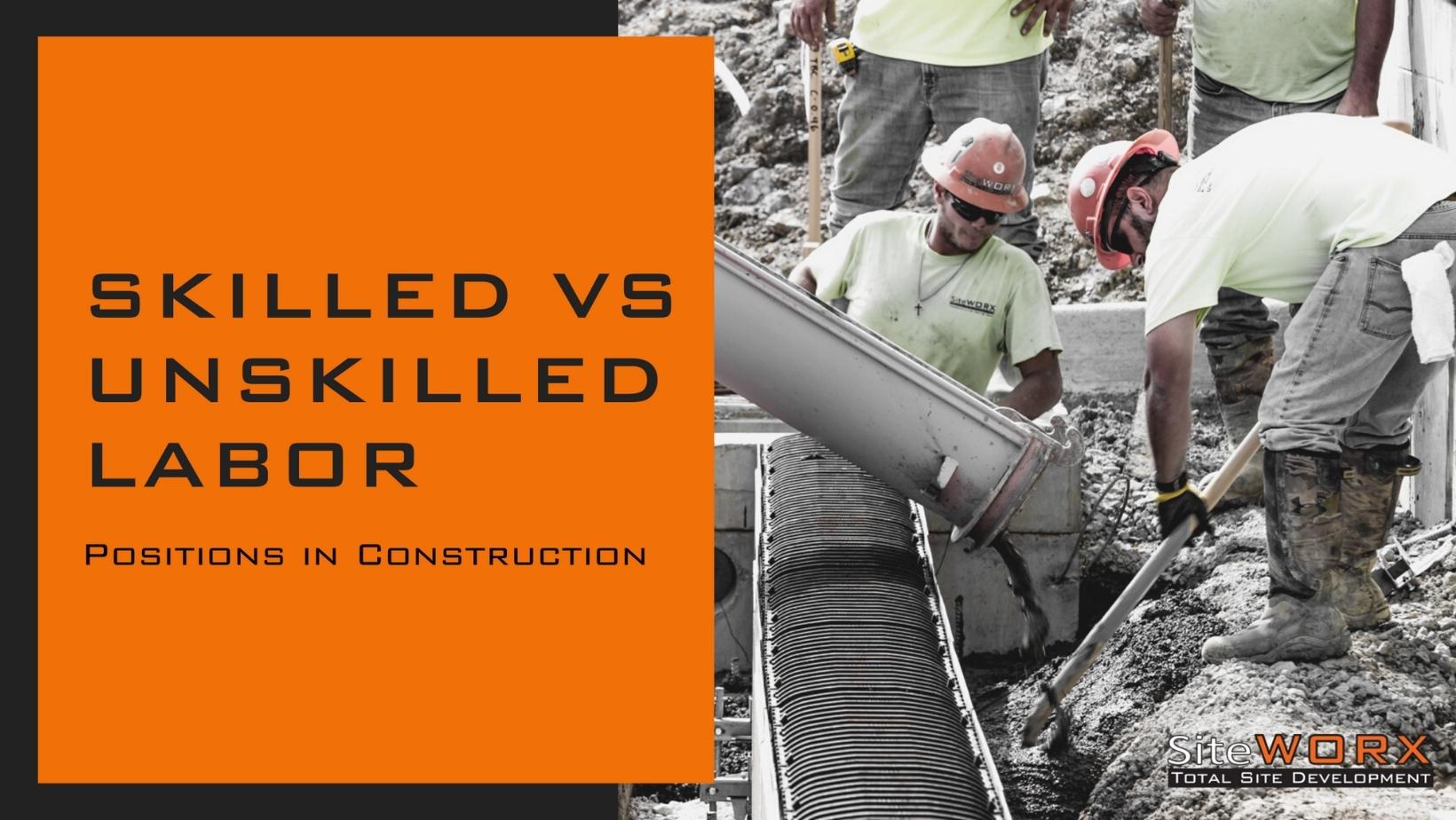 The construction industry is one of the most stable and consistently growing industries in the world. People will always need places to live and work and they will always need people to build those places.  
Because buildings are not just four walls quickly thrown together, each construction project requires many people from different work backgrounds to complete. 
In the construction industry, there are two distinct types of workers: skilled laborers and unskilled laborers. 
The major difference is that skilled laborers attend a school or complete an apprenticeship before they can be employed in their position. Meanwhile, an unskilled laborer can be just about any able-bodied person in good health. Make no mistake: unskilled labor isn't easy. It is quite demanding. The distinction is that you do not need any prior experience to perform unskilled labor, just a strong work ethic.  
In this post, we'll give you some examples of skilled labor positions, as well as what responsibilities unskilled laborers have.  
Over 7 million people in the U.S. are employed in the construction industry. Most of those are skilled laborers. Most skilled labor positions don't require a four or even two-year degree. They usually require a brief certification program followed by an apprenticeship.  
Here are some examples of skilled laborers. 
Electrician

An electrician installs, maintains, fixes, and examines electrical wiring, equipment, and other fixtures. 

Over 527,300 electricians are currently employed.  
Carpenters 

Carpenters construct, erect, install, and repair wooden structures.  

Over 621,980 carpenters are currently employed. 
Plumbers 

Plumbers assemble, install, alter, and repair pipelines.  

Over 365,680 plumbers are currently employed.  
Heating and A/C Repair 

Repairmen install, service, and repair heating and A/C systems.  

Over 253,570 A/C repairmen are currently employed.  
Painters

 

Painters paint walls, equipment, buildings, and bridges.

 

Over 192,960 painters are currently employed. 

 
Cement mason and concrete fillers 

Masons and fillers smooth surfaces, and pour concrete for floors, sidewalks, roads, and curbs.  

Over 182,370 masons are currently employed. 
Roofers 

Roofers cover roofs with shingles, slate, asphalt, and other materials.  

Over 126,160 roofers are currently employed.  
Drywall and ceiling installer 

Installers apply plasterboard and other wallboards to interior walls and ceilings.  

Over 100,590 installers are currently employed.  
Sheet Metal Worker 

Sheet metal workers fabricate, assemble, install and repair sheets of metal.  

Over 86,470 sheet metal workers are currently employed. 
Iron and Steel Workers 

Iron and steel workers raise, place, and unite iron and steel girders, columns, and other structures.  

Over 67,360 iron and steelworkers are currently employed.  
While skilled laborers have the lion's share of construction-related jobs, there are a significant number of unskilled labor positions out there. Currently, over 866,000 people in the U.S. are employed as unskilled laborers.  
Many outsiders and those who are thinking of joining the construction industry don't know what unskilled laborers do during their workday.  
Unskilled labor is not work that can be done by just anyone. It requires strength, precision, and attention to detail.  
On a typical day, an unskilled laborer will do any of the following: 
Align components  

Clean up rubble 

Dig trenches 

Erect scaffolding 

Place concrete and other materials 

Prepare sites for work 

Remove debris 
While an unskilled laborer's day isn't easy, it is rewarding work and work that many can do without the need for a specific degree or diploma.  
The construction industry is always growing. There are always new homes to be built and modifications to be added to businesses. Since human society has not slowed down, neither has the need for construction.  
Here are the projected growth patterns for different skilled labor positions by 2025: 
Plumbers – 16% growth 

Ironworkers – 13% growth 

Equipment operators – 12% growth 

Masons – 12% growth 

Elevator installers – 12% growth 

Project managers – 11% growth 
If you are a worker who is ready to join a well-paying, ever-growing industry, as either a skilled or unskilled worker, reach out to SiteWORX today. America needs to keep building, and we are hiring the next generation of workers.