October is Careers in Construction Month
October is Careers in Construction Month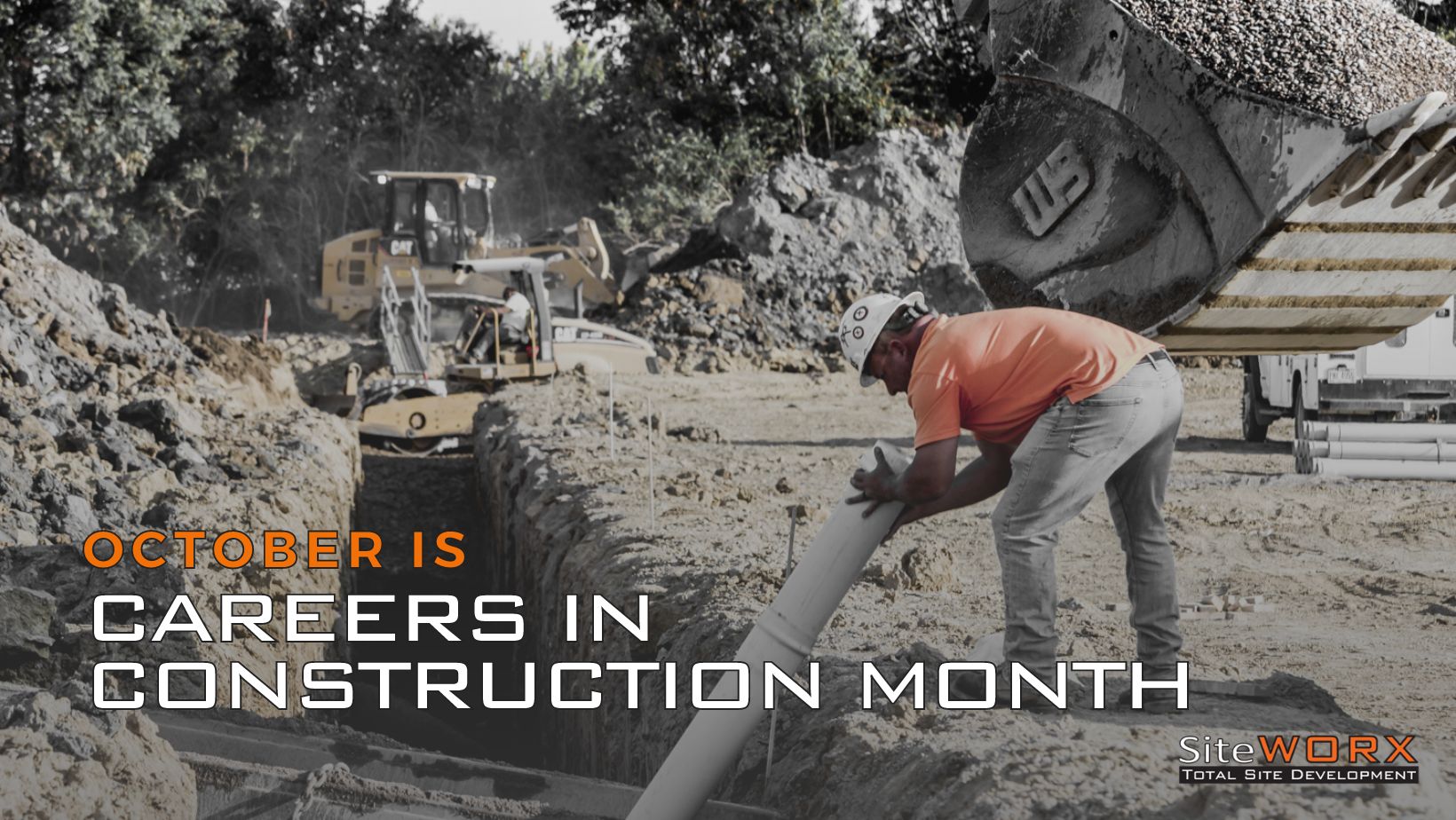 At SiteWORX, October is one of our favorite months of the year!
We love October for the cooling temperatures, but mostly because it is National Careers in Construction Month!
Careers in Construction Month is a nationwide October campaign designed to increase public awareness of careers in construction. This October we plan to inspire the next great generation of craft professionals and make a positive impact on the perceptions of careers in construction.
In this post, we will go over the basics of Careers in Construction month and tell you what you can do to help support the construction industry this October.
What is Careers in Construction Month?
Careers in Construction Month was started by the National Center for Construction Education and Research (NCCER) to increase and improve the public awareness and perception of construction craft professionals and the entire construction workforce.
2022 marks the 10th anniversary of Careers in Construction Month. Last year, a record 47 states pledged to proclaim October as careers in Construction Month. This October, we aim to surpass this record-high mark.
"Everything in the economy begins with construction. We don't have roads. We don't have schools. We don't have factories. None of it exists without skilled craft professionals. It is critically important that we promote these careers," said Tim Johnson, founder, and president of the TJC Group, at SkillsUSA 2018 National Leadership and Skills Conference according to this NCCER press release.
All over the country, NCCER will host job fairs centered around the celebration and education of the construction field.
Be on the lookout for activities hosted by construction organizations aimed to help children and young adults learn more about the future in the construction industry.
What Can You Do to Support Careers in Construction Month?
There are many ways both companies and individuals can support Careers in Construction Month this October.
Virtual or in-person, hosting an event is one of the best ways for a company to get involved. One of the most effective ways of engaging young minds and sharing opportunities with the community is when your company hosts an event. You efficiently spread the word about different opportunities for young people in construction.
Working with local schools is a great way to get the ball rolling.
Common events to look out for include:
Open site tours.


Equipment demonstrations.


Resume-building experiences.


Classroom visits from construction professionals.
The best thing you can do to help spread the word? Proclaim October as Careers in Construction Month!
Last year's Careers in Construction Month was recognized in 47 states. This year, we plan to make it all 50! Let's help get Ohio on the list!
Any state resident can file a proclamation for his or her governor or mayor to sign. Here is a sample proclamation to help encourage your local officials to file.
Check out the Build Your Future guide to construction here.


The BFY guide will help you keep track of which state has made the Careers in Construction Month proclamation and give you the resources to help get Ohio on the map.
Contact Governor Mike DeWine here to tell him you want Ohio to proclaim October Careers in Construction Month! Submit the proclamation request on the contact page linked above with full document details.
Do you live in another state? Use this link to find the best way to contact your governor about proclaiming October Careers in Construction Month.
Celebrate Careers in Construction Month this October
This October, help SiteWORX make Careers in Construction Month one to remember.
The future of construction relies on young people getting excited about careers in construction. Encourage a young person you know to attend a local event and learn more about a career in construction.
If you are ready to begin your career in construction in the Cincinnati area, then there is no better place to start than at SiteWORX!
We currently have openings for newcomers and experienced construction workers.